Register Your Booth
The 15th Annual Live Free or Die Tattoo Expo will be hosted at the DoubleTree by Hilton in Manchester, NH USA on July 28 – 30, 2023. Below you will find all the information about registering your Expo booth (tattoo artists, vendors, businesses, etc):
Now accepting registrations for LFOD 2023!
Please read all the info on this page BEFORE you register or pay.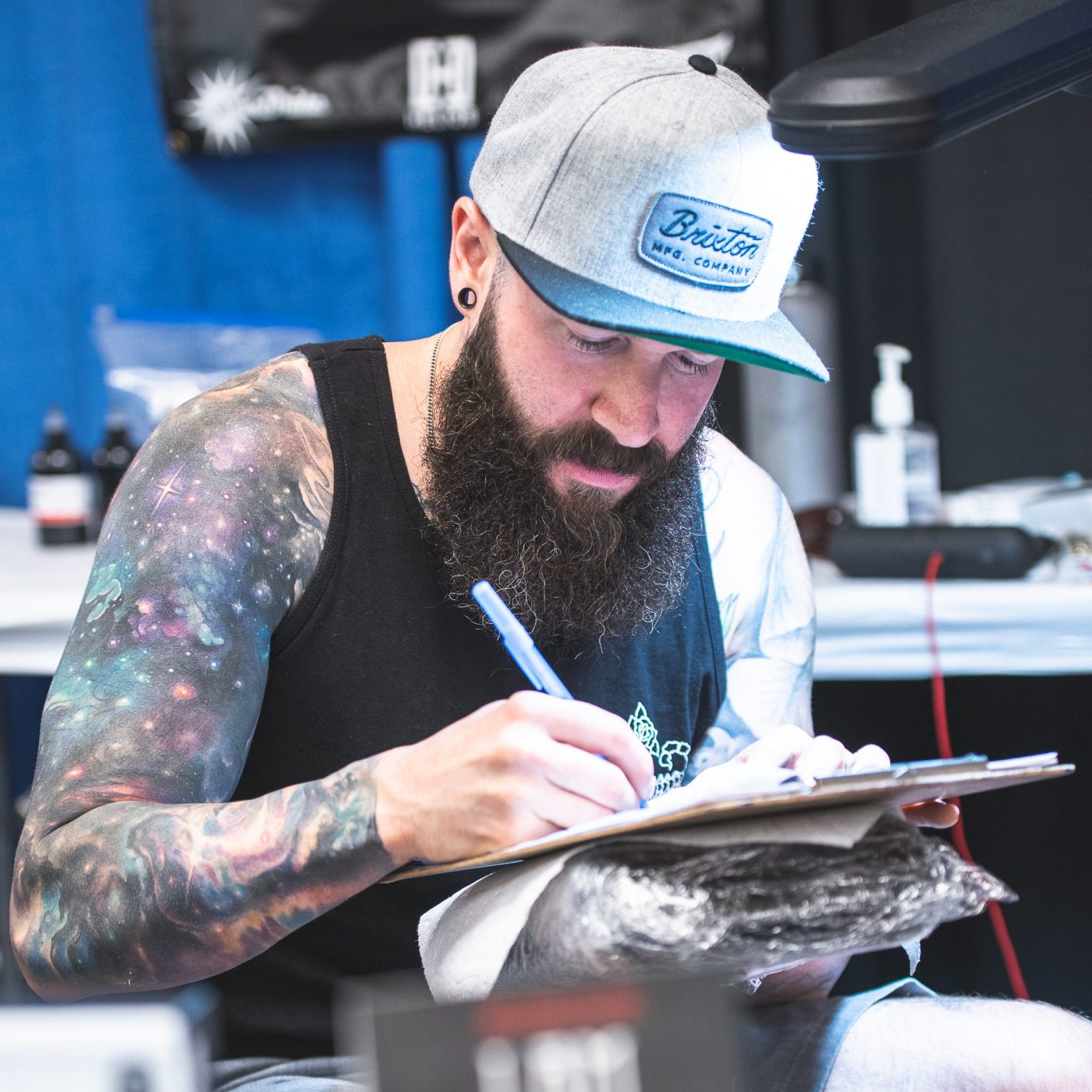 Artist / Vendor Bracelets
Bracelets must be worn at all times. Live Free or Die Tattoo Expo is not responsible for lost, stolen, or damaged bracelets.
All Booths Include:
1 table (10′), 2 chairs, 2 artist / vendor bracelets, 1 electrical drop, medical waste removal, germicidal hand cleanser, and banner hooks
Booths Do
Not

Include:

Personal advertising banners, paper towels, non-adhesive floor covering (which is required)
Hotel Room Rates
We negotiated special room rates with DoubleTree by Hilton for artists and vendors, but you must ask for the "Live Free or Die Tattoo Expo" rate when booking.
Register Your Booth!
Booth Payment Deadline: July 18, 2023
Filling out this form does not guarantee your booth registration. After filling out the form below, you must submit a payment (either a deposit or the full amount) to guarantee your booth(s).
Alternatively, you can fill out the form in-person at Spider-Bite, Inc., 179 Elm Street, Manchester, NH 03101.
This site is protected by reCAPTCHA and the Google Privacy Policy and Terms of Service apply.
*Terms and Conditions: The submission of this form absolves Live Free or Die Tattoo Expo, DoubleTree of Hilton, and the City of Manchester, NH from any and all type of liability, accident, fire, theft, blood-borne pathogens, or diseases. I accept and understand that I am responsible to secure a valid New Hampshire state license, a suitable floor cover for my booth, and a preparation table and thermal fax paper. Further, it is understood that Live Free or Die Tattoo, Inc. shall not be responsible for any losses, claims or damages resulting from items sold by vendors or artists, tattooing or tattooing preparation, body piercing or body piercing preparation, performed or sold by any vendor or artist or for any difficulties, damages or losses resulting from equipment malfunction, whether supplied by the vendor, the artist or by Live Free or Die Tattoo, Inc. Further, all vendors and artists shall solely be responsible as to any damages, losses or injuries claimed or alleged by clients, visitors or customers and shall secure appropriate insure for protection for this purpose and shall fully indemnify and hold harmless Live Free or Die Tattoo, Inc. from any such claims losses or damages as may be alleged or claims by customers, clients or visitors.
Submit your payment AFTER you've filled out the registration form above.
PAYMENT DEADLINE: July 18th, 2023
Submit Booth Deposit
($100)
Pay Remainder of Full Booth
($550)
Pay Full Booth
($650)
Extra Pass for Artist/Vendor
($20/each)
Extra Table (1 table w/covering + 2 chairs) for Artist/Vendor
($20)
Featured Artist on Website
($50/artist)
FULL CORNER BOOTH

SOLD OUT
Submit Booth Deposit
($100)
Pay Remainder of Corner Booth
($600)
Pay Full Corner Booth
($700)
Location